This event is one of the most significant gatherings of its kind. It has played host to the most prominent entrepreneurs in the country. We are delighted to have been invited to participate once more. We are always excited to meet our existing customers as well as start new relationships and learn more what way could we serve our customers. TRANSLIT is delighted to announce that we have been nominated and shortlisted in this years All – Ireland Business awards summit in Croke Park on the 19th of April. You can meet our team at a trade stand; please feel free to come over to us to discuss how we could help your organization. We will take this opportunity to network with some of Ireland's premium businesses.
Thank you for your work
The All – Ireland Business Summit 2018 is running for the fourth consecutive year. In 2015 the event had just 300 delegates. Since then the event has grown immensely with over 1000 business leaders set to appear in Croke Park in 2018.  Some of the big entrepreneurial names included in the lineup for 2018 are Chanelle, Lady McCoy, Pat McDonagh, Keith Barry, Gavin Duffy, Niall Breslin (Bressie), Ivan Yates, and many more.
We are very proud to be part of this event since the beginning. It's wonderful to be acknowledged for our hard work and commitment and to be placed amongst the leading companies in Ireland.  Here at TRANSLIT, we have a team of professionals ready to cater to all of your translation and interpreting needs. With a wide range of languages available, you can be sure that you will receive service you can depend.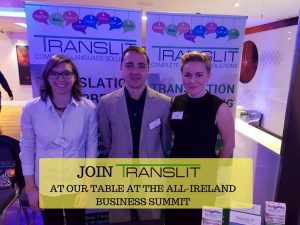 Unmissable opportunity
This event is also a great business opportunity for TRANSLIT. It means we will get the opportunity to showcase our services to attendees from all over the country. We'll have access to several insightful talks & case studies, and we will also benefit from attending engaging speeches by business leaders, academics, and experts in the field of business.
The Agenda for the day is inspiring and looks to be a perfect day for networking with other enterprises. At 7:30 doors open for registration. The day will consist of many speeches and discussions aimed to help strengthen the business community within Ireland. It will also assist us in our quest to take on information and knowledge to improve.

Places to Be
All – Ireland Business champions – Discussion with Ivan Yates on their journey to Croker – milestones in their historic career and the do's and don'ts, advice to aspirants, their vision for Ireland and the presentation of an All-Star by A leading light.
After the break, The winning formula – The Strategies And Tactics To Scale And Improve Your Business will be one of the talks we are planning to see first hand. Hearing from a panel of Irish entrepreneurs who have successfully navigated their way to the top of the business ladder in their respective fields.
It's a Wrap
This event has multiple benefits for those who attend and are involved. We are seeking to seize this opportunity and use it to help assist our rapidly growing company to be as efficient and cater to consumer needs as best as possible.
We hope to see you at the All Ireland Business Summit 2018. Please keep a lookout for Alex and Julija who will be representing TRANSLIT at this year's event and feel free to come over to our stand, message us on Facebook:
https://www.facebook.com/translit.com/
Send us a Tweet:
https://twitter.com/TRANSLITco
Or contact our managing director directly via twitter: