[supsystic-social-sharing id='1′]
Saint Patrick's Day (or Paddy's Day) is celebrated worldwide, with everyone embracing and celebrating their (imagined or real) 'Irishness'.
St. Patrick's Day is without question the biggest celebration of a national day across the globe. In the big American cities, in Moscow's Red Square, and even in Nigeria, people will be proclaiming themselves Irish for the day.
What is the meaning of Saint Patrick's day?
St. Patrick's Day began in Ireland as a Catholic holiday: in fact, Saint Patrick is the patron Saint of Ireland because he brought Christianity there.
Legend says that he also sent the snakes out of Ireland (in fact, there aren't any snakes there now!)
But fundamentally, over the years it has become a festival as much as a holy day, and Paddy's Day is now a celebration of all Irish things: Irish music, Irish customs, Irish people.
Where to celebrate?
Ireland has historically been a country of huge emigration, with people mostly going to the United States, England and Australia, and so those are the main places where Saint Patrick's day is celebrated.
But all over the world, where there is an Irish pub, there is also a St. Patrick special night! That is why this festival is so famous.
Whether quietly with their family, at a Church service, or boisterously in a pub, millions will join in marking the anniversary of Ireland's patron saint.
Abroad, Irish pubs are the focal point for the celebrations. What happens abroad depends very much on the pub, often there are typical Irish dishes, such as smoked salmon on brown bread or the traditional Irish breakfast.
Then there's Irish music (both traditional and modern) and of course a pint of Guinness is mandatory!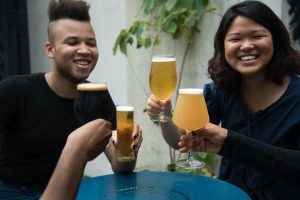 The atmosphere during the festival:
In Ireland there is a great atmosphere: everybody has the day off school or work, everybody wears something green and people often wear shamrock too, which is the symbol for St Patrick as he used it to explain the Trinity.
It's a festival which is close to the heart of Irish people: children in the schools practice for weeks, learning songs on the tin whistle and marching around the playground.
It is a big occasion for the foreigners who want to feel the Irish spirit and enjoy Irish culture, but not only! It is also a good night for all the Irish expatriates to meet up, celebrate their own homeland and have the 'craic' (which is the Irish word for fun, and NOT any illegal substance!)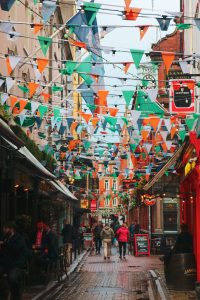 ST PATRICK'S DAY PARADE IN DUBLIN

Then: what do you think of this great event? What are you waiting for?
Paddy's day is in 2 weeks: be prepared for it, because no matter where you are from, you will be Irish for the day!
Written by: Sara Rizzo

[supsystic-social-sharing id='1′]