The surge that flooded the whole world has arouse many reactions, what is « textese »?
SMS Language appeared twenty years ago with the birth of texting, it consist in reducing words maximum through several processes: abbreviation (lol), typographic puzzle, (2day), emoticons and so on.
What are its advantages and disadvantages?

Advantages:
Contrary to what some may believe, this language does not have a bad influence on the level of students' spelling.
According to a French study, the best of them use it.
Save time!
The emoticons are representatives of body language; they can be very useful to understand the interlocutor.
There is not ONE language; users can create their own language.
Disadvantages:
Initially, it was used to shorten the maximum number of characters in SMS. Indeed, the phone subscription previously offered a limited number of SMS, with a limited number of characters per message.
Today, most phone subscription allow you to send unlimited SMS, it becomes useless to use this language.
Furthermore, the characters economy is relative and this language was useful with old phone.
This language is not only present in SMS and it may have taken too much girth, going up to appear on forums and even on some copies of the Bachelor!
Note that "textese" is old-fashioned in a while in the United States. Indeed, the size of SMS has increased significantly and we can say that he has a "bad reputation" sometimes.
As the name suggests (Short Message Service) texting is not made for a literary correspondence.
There is many ways to interpret these messages and there is often misunderstandings.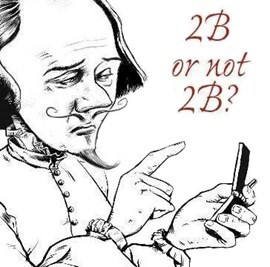 Author : Marie Daudey
Source of the image: https://www.englishforums.com/content/resources/how-does-texting-influence-the-english-language.htm