'Not all those who wander are lost'
Today I want to tell you something about travelling the world. Travelling is probably the most beautiful thing on earth. No matter if you're young or old, if you travel to another country you are going to be happy and very excited about all the new experiences. Why? Because there are so many things to learn about other cultures and histories. New things you never expected. You can visit the most beautiful sights of each country or you can meet new people, maybe they will be friends for a lifetime and you can definitely have a lot of fun. But with seven continents, you will always find new places to visit and if you are thinking you have seen everything so far, there are always spots you haven't been yet. Hidden places, which are not on a map and which you can only visit if you take another route or ask locals. Places and cities which are not full of tourists.
But of course, travelling the world is also very expensive. You have to pay for the flights, the accommodation, the food and maybe you have unexpected expenses, for example for a medical bill or a souvenir for each of your family members. All the more important is to have connections to foreigners. There are a lot of social networks where you can connect to different people in different countries and maybe with a bit of luck you can discard the expenses for the accommodations. Even if you not travelling alone. Many people are happy to help and offer you an accommodation for 2 or 3 nights. And the most important thing is to have a bed for the night because through the day you will be outside to explore the country. And mostly these people are the best travel guides. They know their country or city like the back of one's hand and provide you with inside information you most likely don't find in your tour guide.
Regardless of whether you visit only one of our seven continents or all of them, travelling is beautiful and no one should sit at home and regret all the missed chances in old age.
There's only one thing left to do – go to the next travel agency and book a flight!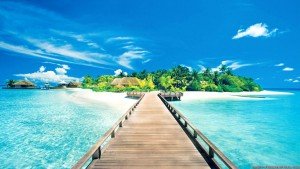 By Bianca Schlereth
Source: Google Images