An office can be seen and perceived in many different ways, from a cosy place for some people to a real dark dragon's den for others, depending on how it looks like and of course on the people who work in it. However, one factor that everyone would confirm, from the manager of the company to the cleaning lady, is that a nice office makes working a real pleasure.
Remember the old saying "If you like what you do, you don't work a day in your life", well the same can be applied for the work environment if you enjoy the place you are working in.
Of course this statement depends on the circumstances – your amount of work today, your mood, your health or private issues, or even the weather – but it can be really true when looking at the little details that you can add to your working environment in order to make work a pleasant experience and your office a place where you like to come back to every morning.
Let's have a closer look on some of these elements that can make every office a "happy wonderland".
Let the light flow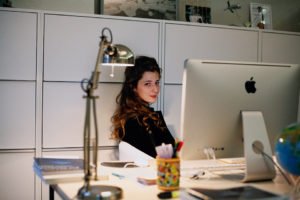 I think all of us people spending our days in an office understand it just too well, and especially during the winter months, when the days are so short that it's always night when you leave your home in the morning and come back at the end of the day.  We easily have the impression that our mood equals an endless sad blue.
This is one of the reasons why light is very important, we might think of different reasons why, but well, the most obvious factor is your health.
When it is dark around you, your eyes get tired, you have difficulties to concentrate… and when you find yourself in the middle of a busy working day, you really don't want to risk a headache towards the end of your shift, right? Switch on the light in time before your eyes begin to hurt and if necessary, buy yourself a nice lamp!  This will also make your working space nicer and you will have more pleasure while working on your tasks. In addition to that, it is proved that light also influences your mood.
A proper illumination makes people immediately smile and feel better than if you were plunged into darkness, you don't have to be a professor to know that.
So turn the lights on!
Keep it clean and fresh
Keeping the office clear and clean is a key feature for a good work production.
First of all, the whole office has to shine: hoovered and cleaned soil, stainless windows, fresh scent. This is much more pleasant for everyone to work in a fresh atmosphere, so try to keep the office as clean as possible.
Think about the visitors too: nobody likes to enter an office full of dust and smelling musty.
Here are 2 tips for the lazy ones: regularly ventilate the office (even in winter, you heard me) and don't leave waiste, crumbs or useless papers laying around! The less you leave, the less you'll have to clean after.
Once the office is cleaned, it's time to deal with your desk. Get rid of all the useless papers and stuff that have been piling up for centuries, tidy everything up: check your stationery and folders, decluster your drawers, get rid of what you don't use or need anymore.
Why not reorganizing your workspace? You can find many tips on internet on how to have the perfect desk, but it begins with this step: keep only what you need within easy reach and don't surcharge your workspace, because the eye can easily be distracted, especially at work!
Get green fingers
Do not underestimate the effect that a nice little plant can have on your working environment.
Having something nice to look at, that for once is different from all those papers, closets and folders and all the office supplies given to your eyes all day long is more valuable than you think. Whether you choose a succulent plant (a cactus for example) or a beautiful and colorful bouquet, its presence will bring a relaxing and soothing atmosphere to the workplace… bringing also life in some extent!
Another good point is that it will give a good image of you to all the visitors, whether they are clients, associates or even the postman. As we have previously said,a place where you feel good is a place where you want to come back to.
Of course someone will have to water it from time to time otherwise the poor plant will die of thirst, but let's see it as an opportunity to take the time to disconnect for a little while from your tasks to take care of it; after all it is a fully-fledged member of the office and you will be very proud of having a plant doing so well on your desk.
Add colour to your workplace
Why do you think many people decorate their office desks and walls with pictures, paintings, drawings, etc.? Because it feels good.
A nice picture of your family and friends right next to your computer screen, some drawings by your kids or nephews dedicated to you or a beautiful painting hanged to the wall have the power to make even an awfully long day go by more quickly.
When you have too many things to do and it seems like you will never achieve everything on due time, or you just feel blue and wish you were home, looking at heart-warming and colorful pictures will help you finding the motivation to keep going on.
So to put it simply, having your office decorated will increase your motivation and thus your productivity… and good mood! Pictures are related to light in the sense that it stimulates your brain. But beware not to spend your time looking at it!
Treat yourself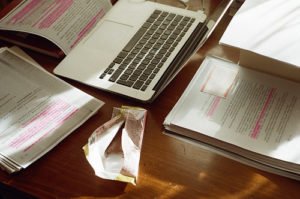 Even though you might be watching your weight, a cookie from time to time or a nice little piece of chocolate together with some tea or coffee can lighten your day.
Take a break! With your colleagues or simply between two exhausting tasks, take the time to prepare yourself a hot drink accompanied with sweets. We all know the positive effects of chocolate on our minds, so just treat yourself, you deserve it!
Well of course you shouldn't overdo the coffee break, but why not organising a small area in the office with all kind of cups, beverages and treats for everyone to find what they need when comes the little hungry.
And if you're really worried about watching your figure, you can as well bring your carrot chips and tofu cookies: what you must fight anyway is the feeling of hungry coming from time to time, especially at the end of the day, which is a productivity-killer.
Turn your day at work into a nice little coffee table.
To sum it up, it is not always easy at work, dealing with tasks, deadlines, stress and responsibilities, everyone knows that. But those little things that we have listed in this article can really help you to make your office a better and nicer place. Although you might not think of it that way right now, just give it a try, it costs nothing and I bet that you will feel the difference.
Do you have any other suggestions on how to make your office look nicer?
Please leave some comments below!
Authors: Thomas Koeck and Juliane Daudan