Work placements are a great way for students to get more  professional during their studies and increase their employability thereafter. Often located at key times of your studies, they allow you to understand the world of business, and usually to learn more about the industries you are interested in.
Now there is a question that arises really often during the research of an internship. "Should I go on training abroad or stay in my home country?" Here are 6 reasons that will encourage you to decide to make your internship abroad:
It is above all a unique opportunity: to mark on your career an international experience and to develop your language skills while learning about the industry you are interested in at the same time.
To get out of your comfort zone: Going abroad is a unique opportunity to start from scratch and discover the unknown. New friends, new environment, new culture … hard to beat if you want to try something new!
To develop an experience abroad: Recruiters need young people ready to move on international market, ready to be mobile at any time. A first experience abroad is clearly a positive message you send them in that direction.
To improve your language level: You will improve your language skills and discover the specific vocabulary of certain sectors. We are talking here about improving your level. Indeed, recruiters are not looking for students who talk approximately the language, they want someone they can surely rely on.
To discover the country: If you work during the week, you will probably be available on weekends. This is a great opportunity to travel and participate to new activities to meet young people, discover new things and make new experiences.
To become more mature: Going on a training abroad means for some persons to leave the family nest and environment for the first time. An excellent opportunity to learn how to live alone and become familiar with the constraints!
It seems like the reasons are not lacking to go on a training abroad, it is simply necessary to have the right incentives to avoid disappointment or misunderstanding once there. It is now your responsibility to give the maximum once in your host country to make this experience as unforgettable as possible.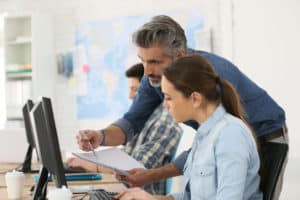 Authors: Wided Khadraoui and Quentin Mosnier