Reminder of the story
The Little Prince is a poetic tale of loneliness, friendship, love and loss, written in the form of a children's book and enhanced by watercolour illustrations of the author. The protagonist is a young alien prince with golden hair, a long scarf and a lovable laugh. He comes from a tiny asteroid where he lives with his rose which he has to leave in order to explore the rest of the universe. After visiting six other asteroids, each of them inhabited by foolish and narrow-minded adults, the little prince lands on Earth where he meets a snake, a row of rosebushes, a fox and finally our aviator. All these meetings have a philosophical meaning making The Little Prince a work more for adults than for children, even if written in a very simple way.
If you have already enjoyed reading it or if you have in mind to do it, here is a list of 9 facts you probably didn't know about the Little Prince and its translations:
It is during his exile to North America during the Second World War that Antoine de Saint-Exupéry dedicated himself to literature, writing almost half of his works – including The Little Prince.
The first translation appeared in 1943 and was realised by Katherine Woods into English. Her version contains some mistakes but, in spite of this, it is still the most appreciated by many Little Prince lovers because it is able to convey the writer's spirit and charm. Since 1943, at least further six English translations have been published.
The philosophical topics dealt by the author with the simplicity of children are the main reason why The Little Prince is the third most-translated book in the world, counting 250 different languages.
Its translations include some dialects, such as the Italian ones and the artificial language of Esperanto.
It is one of the few modern books to have been translated into Latin and in very rare languages like Alur, spoken in Congo and Toba, an indigenous languages of northern Argentina. In this last case, it is very interesting to notice that The Little Prince was the first book translated into this language since the New Testament!
A braille version for visually impaired readers has been printed.
There are several translations into the same language. The two countries that hold this record are Korea and China, respectively with 47 and 50 different editions of Saint-Exupéry's novel.
In France, Saint-Exupéry's birthplace, The Little Prince and his further works were not allowed to be printed until after the Second World War because of the author's views and social criticism which were not tolerated by the Nazi rule in Vichy France. For this reason, secretly printed copies widespread.
Today The Little Prince is used as a beginner's book for French language students and is considered as one of the best 20th century books in France.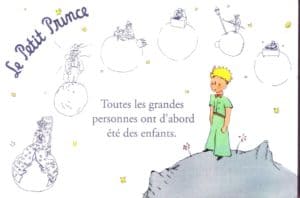 Conclusion
The film version released on July 29th 2015 in france. However, to have you wait for it, you can find here some of the best quotes translated into different languages:
"It is only with the heart that one can see rightly; what is essential is invisible to the eye."
"No se ve bien sino con el corazón, lo esencial es invisible a los ojos."(Spanish)
"Dobrze widzi się tylko sercem. Najważniejsze jest niewidoczne dla oczu."(Polish)
"It is the time you have wasted for your rose that makes your rose so important."
"E' il tempo che hai perduto per la tua rosa che ha fatto la tua rosa così importante."(Italian)
"Det är därför att du skött om rosen så länge som den har så stort värde för dig."(Swedish)
"You become responsible, forever, for what you have tamed."
"Du bist ewig für das verantwortlich, was du dir vertraut gemacht hast."(German)
"Tu deviens responsable pour toujours de ce que tu as apprivoisé."(French)
Authors : Donatella Zunino and Quentin Mosnier