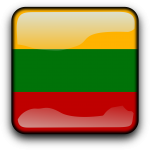 In order to get married in Ireland, a Lithuanian citizen will require the legalisation of his or her Birth Certificate with an Apostille being attached to it.
For documents issued prior to 1991, the Lithuanian Embassy in Dublin requests an application for a duplicate Birth Certificate.
Lithuanian citizens can submit documents for a duplicate Birth Certificate and an Apostille stamp at the Embassy of the Republic of Lithuania in Ireland in person any working day, except holidays, during consular reception hours from 10 am to 13 pm. It will not be necessary to make an appointment first.
According to the Lithuanian article