TRANSLIT is celebrating 5 years in business!
We would like to thank all our customers and partners for your kind support.
The anniversary coincided with the Limerick Chamber Regional Business Awards 2014. It was a pleasant surprise to be shortlisted and become a finalist for the category Best Emerging / Start-up Business. The award took place at the Strand Hotel, Limerick on Friday, November 21.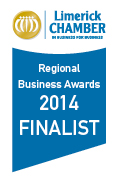 This was a great achievement for the company indicating that we are on the right track and that others recognise our work.  It is a strong push forward. At TRANSLIT, we constantly improve our services for better customer experience.
TRANSLIT management team would like to congratulate the staff who contributed to the success and growth over the last 5 years and express gratitude for every employee.