Everybody knows that something is missing in several films; something that is lost in translation (Sofia Coppola, 2003). May it be in the title or in the content of the film, we can loose some details. Although they were tiny details, those can bring us many clues about the film or make us laugh if we know what is about. Films like All about Eva (Eva al desnudo) or Double Indemnity (Perdición) doesn't respect the original title of their films.
Nobody would suspect that a bad translation hides a great joke or a great mistery that should be solved at the end of the film, not earlier.
For example, Rosemary's Baby (Roman Polansky, 1968) is a good title for a film in which the main character, Rosemary, is pregnant and is suppose to be crazy. We see it always the story in that way but at the end of the film we finally find out that she was right about her child. Her son is the devil. All the English speaker community could feel scared at the end of this film, not in the Spanish speaker community. In Spain that film is call The Devil's Seed (La semilla del diablo), so when the film starts, we already know everything about the end of the film. So depressing.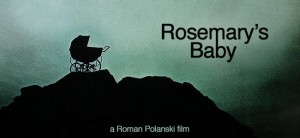 Upcoming, we will post more false friends titles, spoiler translations and may be some revealing answers to your doubts on how not be lost on the translation.
Author: Jesus L.
Source of the image: http://cinefantastiqueonline.com/2013/07/cinefantastiques-greatest-movie-cheats-rosemarys-baby/