Here we have a new post about bad translations and tore titles. This time we will talk about a whole film, not only its title. This film was a great success and all the Spanish talking society laughter. On the other hand, that people lost several jokes from the film.  We are talking about Young Frankenstein (1974) directed by Mel Brooks.
Undoubtedly, Young Frankenstein is one of that films that really makes you laugh but it has not a good translation to Spanish language. Why? The answer is simple. They killed all the second sense of the humour.
Let's bring two examples: the sequence in which doctor Fronkonstin (that's how he call himself) arrives to Transylvania to deal with his grandfather business. Igor, his servant, picks him up in the train station; he walks in a very funny way and use a short walk stick to secure his steps. After he go downstairs he says to his master "walk this way" giving the stick to Fronkonstin who starts walking like him.  In the Spanish version there is not the second meaning of "act in a particular posture". Igor just Sais "apóyese aquí" (rely on the walk stick). So the joke is missing.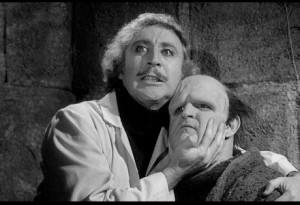 After that lost joke, Fronkonstin and Igor get on the trolley that will take them to the castle and in the charge department, there is a girl on a pile of hay. She says "Doctor, would you like to have a roll in the hay?". Actually it has a sexual meaning but in the Spanish version it was just "to roll in the hay" (¿Le gusta revolcarse por la paja?) in the common sense of the meaning. So it became in a silly joke.
And so on.
Why Spanish speakers laugh with these film? That is a mystery. May be is some kind of humour inertia. It doesn't matter what is project on the screen. We have come to laugh. That is some kind of dangerous attitude. Where is the intelligent humour then? May be we have a new humour style. It's the Bleating sheep humour.
Author: Jesús López Alarcón