On behalf of TRANSLIT team, I would like to take this opportunity to thank you for the support given during 2015 and wish you all Merry Christmas and a Happy New Year in 2016!
2015 has been a wonderful year. We thank all our staff and contractors who did all the work, and our customers who are the reason why we are still in business.
2016 is ahead of us. We are looking forward to it will bring new opportunities and happy moments for all of us.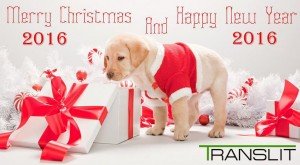 Please note, TRANSLIT offices will be closed for Christmas during December 24-28 and for the New Year from December 31 to January 3. Sorry for any inconvenience caused.
We will open for two days on December 29-30 between 10am-5pm and fully come back to normal working hours from January 4, 2016.
We are still processing any urgent translations during festive season. You can contact us on 0857716371 or info@translit.com