Discover

a southern city
Rich in character, Montpellier, in the south of France is an exceptional place to live.
Less than three hours from Barcelona and Italy, and just 11 kilometres from the Mediterranean Sea.
Montpellier is an authentic destination which has earned its place as one of the major European spot for
tourism, by offering both a modern outlook and a certain art of living.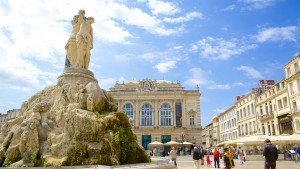 In the "place de la Comedie", you will see the cafe terraces full of people having a drink and a break enjoying the vibrant city,
it's street artists and it's 300 sunny days a year… you'll better understand our typically Mediterranean art of living!
Montpellier, city of medicine, research activities and digital economy, also offers remarkable historic
and architectural heritage, as the Triumphal arch below.

Explore the terroir through your taste buds, offer yourself a meal in one of the starred restaurant,
stroll through fragrant markets as "Les estivales" every Friday night in the summer on the "esplanade de la Comedie",
and taste local products like goat cheese and Languedoc wines directly at the cellars and wine estates.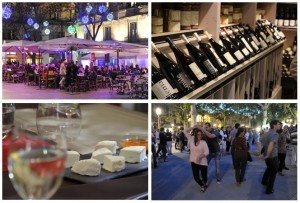 For the nightlife lovers, you will not be left, Montpellier is a student city and you can go out every night,
the centre is plenty of bar and nightclub where you can listen live music.
I suggest you to go to the popular concert hall "Le Rockstore" with this famous Cadillac out of the wall.

Montpellier is full of small alleys, pedestrian streets and the tramway will be able to bring you everywhere,
even up the beach a few minutes from the center! You can also take pleasure to spend an afternoon at the lake of the "Cres".
Walk around the lake on foot, horseback or by bike, swim in safety with the lifeguard and enjoy a barbecue with a sunset.
You can also leave the city and discover the rivers with waterfalls all around Montpellier to refresh you in the green area.

Last but not least, the exceptional cultural and sporting events. All year round,
Montpellier Mediterranean Metropole welcomes amazing events, such as FISE (International extreme sport festival),
Montpellier dance festival and especially in 2016, the cycling Tour de France arrival and departure,
and so much more…
another good reason to come to Montpellier!
Written by: Bastien Escudé