Palmanova is a small town located in the north-western Italian region of Friuli, at less than 100 km from Venice.
The Great Council of the Serenissima (also known as the Venetian Republic) needed a well-protected outpost to protect its eastern frontier from the Ottoman attacks. Initially, the project was assigned to Leonardo da Vinci, who actually came
to inspect the area but eventually left the project due to previous agreements arranged with the court of Milan. After a brief consultation, the Council decided to give the project to the military engineers and architects of the Fortification Office of Venice. Among them we can cite Giulio Savorgnan and Marcantonio Martinengo, and the designer Vincenzo Scamozzi.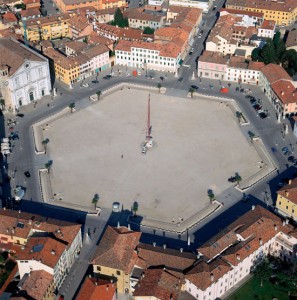 On the 7th of October 1593, a date chosen to commemorate the victory of European forces over Ottoman Turks in the Battle of Lepanto, the first stone was placed. The initial name of Nuova Palma (New Palma) comes from the late village of Palmada. This small fortress, which at the time was the largest of Europe, was built in the almost unique shape of a nine-pointed star. The construction of the first circle of the walls took almost 30 years. The second circle was completed in 1690 and a third line was built under Napoleon, at the beginning of the 19th century.
At the centre of the town lies the beautiful Piazza Grande (the main square), surrounded by a number of historic buildings. Among them: the Palazzo dei Provveditori Generali, built in 1598 and today seat of the City Council, the Loggia della Gran Guardia, the dome and the bell tower.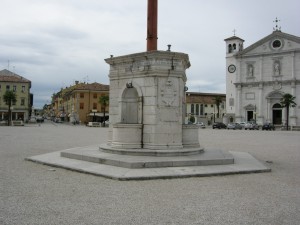 Utopia, from Thomas More, strongly influenced the project. The book depicts not only an ideal of perfect city, but also of the society that inhabited it. Along the years Palmanova has been praised as one of the most successful Renaissance planned towns, as it proved itself successful as a liveable space. Many similar plans ignored every practical necessity in favour of mere appearance. At first, though, regardless of the elegant and rational layout of the city, almost nobody moved in the town. Eventually, Venice was forced to pardon criminals and offer them free building lots. Not the better outcome for an Utopian project.
In less than 80 years, Palmanova had been conquered from Napoleon, then passed under Austria and finally was annexed to Italy in 1866. The Historic Museum displays a great number of evidences of this rich history. The Military Museum provides an attractive walk along the pathways situated on top of the fortifications.
If you are visiting Italy in July, another reason to visit Palmanova is the historical re-enactment which takes places on the day of the Festival of the Redeemer. Tourists can enjoy guided visits to the fort and experience the Venetian cuisine of the 15th century.
Author: Fulvio Spagnul
Source of the image:
http://www.turismofvg.it/Locality/Palmanova
http://www.downhilltravel.com/index.php?option=com_content&task=view&id=41&Itemid=90
https://commons.wikimedia.org/wiki/File:Palmanova,_piazza_grande_07.JPG