Running A Business in Spain
Last night, Marina was at her home in Seville, SPAIN. She turned on the TV and watched the last episode (again) of her favourite TV series of all time, FRIENDS. Feeling more nostalgic than ever, in a sudden fit of enthusiasm, she feels determined to recreate Central Perk. She finds the perfect location for her business project. She also has the funds required to start the project and there is nothing stopping her now. What are the steps that Marina will have to follow?
Step One
The first thing that Marina should take into account is that starting a business in Spain takes a long time. According to website www.doingbusiness.com, business starting in Spain takes an average of 47 days. This is more than twice the average in Europe. This is because bureaucracy in this country can be like a labyrinth. As it happens in most of the European countries, an entrepreneur should go to local, regional or national administration offices. Here they fill in all the relevant forms and documents in order to develop their project. The problem that strikes Spain in this aspect is that there isn't any regulated form in any of these levels. From one Spanish region to another, forms and relevant documents may change. Taxes to be paid may be significantly different depending on the city. Documents are easy to understand, complexity is not the problem, but finding the correct ones.
Step Two
Once Marina got the forms and the documents filled in, she needs to register as a freelancer. She can do this at the Social Security office (and any other person that she would like to hire). She will need to address the Inland Revenue Department in order to obtain the CIF (VAT identification number in Spain). Then she needs to provide a preliminary statement about the business she wants to run. To announce the start of the business activity she must get another statement. If Marina had watched Charlie and the Chocolate Factory and wanted to create a company instead, she should register it at the Trade Register office.
Great! Since Marina is now a registered freelancer she has got the premises. The Inland Revenue Department is aware of the activity she wants to perform. She needs to contact the local administration again, in order to be granted the statement announcing the start of business. She now needs to get a business license. The premises she is renting monthly were from a travel agency, so it is not suitable for a bar/cafeteria. If she wants to get that business license, she needs to renovate it. If she wants to perform a renovation of the premises, she will need a construction permit as well. The Town Hall issues the permit.
Step Three
Let's see if Marina has everything she needs. Oops! It looks like she is ready to start the activity, but she needs the license from the Town Hall (again)! No worries, she has everything required to start the business. She has to fill in a form at the local administration to have her licence granted. The only nuance is that it can take up to three months to get the license (47 days on average, as we said at the beginning). What could she do in the meantime?
Somebody would think that this is a real mishap, but actually, this is really convenient in order to manage the business before she opens. Now she has time to think if she needs to hire more staff (she probably will), a couple of waiters, a chef, cleaning service. She has to keep in mind that any employee needs to be registered in the Social Security office, state that they work for Central Perk and also the number of hours and the wage. Some employers from bars and restaurants who register employees put down that they only work half days but they actually work full days. They do this so they can avoid tax. Undeclared working hours are paid to employees by cash in hand. Needless to say, this is completely illegal.
On a separate issue, it's going to be really hard to serve food and drinks if she didn't find the providers. Nobody is going to know about Central Perk if it is not advertised anywhere. So, as you can see, it's not about waiting for three months, it's about getting ready in three months!
Three Months Later
The First day of Central Perk in Seville was a great success! People come in the morning to have coffee and some toast for breakfast, stay for midday to have a beer and tapas, some people come and have lunch at around 2:00 pm (don't forget that Spaniards eat really late compared to their European neighbours!). People come and go to have something to drink and eat during the afternoon for Tardeo, which is a Spanish habit that has burst onto the scene during the last few years. It consists in going around the bars drinking and eating even more tapas… and in the late evening, some cool music, more drinks, more food and maybe some dancing. Spaniards appreciate a lot of the bar culture, it's something to be proud of.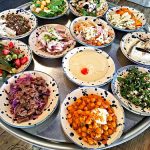 Next time you book your holidays in Spain and you go to a bar to have a beer and patatas bravas, just remember that it couldn't have been possible without the efforts and dedication of somebody who believed in his own project.